[rwp-review id="1″]
Company: East Coast Dyes / Product: ECM Black / Price: $15
When Connor asked me if I wanted to test out some of East Coast Dye's new Black mesh, I couldn't wait to get my hands on a piece. We've been looking at nothing but rain in Portland these past few weeks so I was excited to see how this stuff held up.
Stringing: +9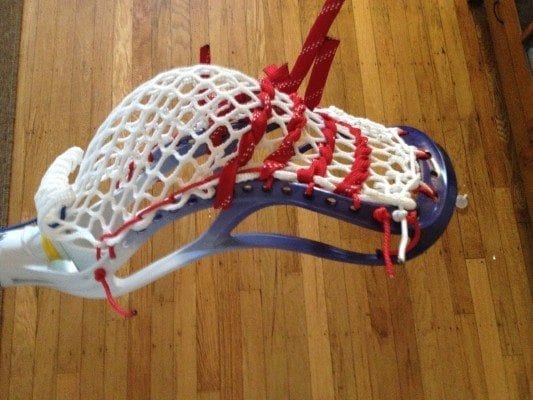 ECM Black is near perfect when it comes to stringing. I have played with waxed mesh before and while I love the hold and the fact that it tends to keep shape even in the rainiest conditions, I really don't like the waxy feel.
This high performance mesh gives you all of the benefits of typical wax mesh without the waxy feel. Straight out of the package, this mesh feels like it's been broken in for weeks. It strings up quick and easy, and lends itself to a wide range of stringing options.
The 20mm is tough and can handle some extra tension when stringing a tight channel and if you end up restringing your sidewall or your shooters, you won't end up with waxy fingers.
Ball Control: +8
ECM Black features Easy Coast Dyes' new wax formula giving you the same hold you have come to expect from their other mesh products with a semi-hard mesh play and feel.
Personally, I am a big believer in semi-hard mesh, and I like that ECM Black is a bit harder than most mesh. I think that the reduction in the waxy feel may reduce the hold potential a little bit, but this stuff likes to hug the ball close when it sits in your pocket.
Durability: +9
Just looking at ECM Black you can tell that it was designed to hold up against both the weather and multiple seasons worth of play.
I have spent a good chunk of time working with the mesh on the wall and at practices in some pretty gross conditions and the mesh still looks like it did when I pulled it out of the plastic.
ECM Black really seems to be the next generation of wax mesh.
Consistency: +9
In addition to being tough, ECM Black stays consistent despite even the ugliest of weather conditions. Wax mesh has made quite a name for itself in the good ol' PNW and for good reason.
ECM really lives up to East Coast Dyes' claim that you will never have to worry about your pocket bagging again. Two weeks of rainy play and my pocket looks like it did the day I strung it up.
I will say that it took me a few days to break the pocket in to my liking, but that may have been more me being picky about my stringing than the mesh needing some shaping.
Value: +8
Priced at $15 for a regular piece of white 15mm, 20mm, or 6 diamond mesh, ECM Black really reasonably priced.
These days it is hard to find a piece of wax mesh for less than $15. If you are going to make the investment ECM Black is worth it.
Overall: +8.6/10
ECM Black gives you all of the benefits of wax mesh without leaving you with sticky hands anytime you mess with your pocket. The new wax formula plays much more like semi-hard mesh as compared to different brands of waxed mesh keeps your pocket in good shape even in PNW rains.  Tough to beat a sturdy pocket.
If you are in the market for a new piece of pocket you'll definitely want to give ECM Black a try.